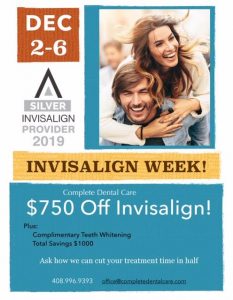 Invisalign Week December 2—6, 2019
Dear Patients,
With the end of the year two months away we want to remind our patients that orthodontic treatment is a great way to use your remaining Flexible Spending Dollars.
Many of our patients have used their Flexible Spending Accounts to pay for Invisalign treatment. Invisalign is a fully aesthetic way to straighten your teeth with a series of clear, plastic trays. Properly aligned teeth are less likely to suffer from periodontal disease and restorative issues. By putting your teeth in the correct place, you are helping to ensure they remain strong and healthy for years to come!
For those of you interested in using your 2019 Flexible Spending Accounts to start Invisalign treatment, we have a special offer for you. If you take your records by December, we are offering $750.00 off the cost of Invisalign treatment.
In 2020 resolve to have a healthy, beautiful smile not just for 2019 but for the rest of your life!
Sincerely,